Get Help
Where to get help in Blackford County. Updated: 4/29/20
NEW! Be Well Indiana: https://bewellindiana.com/
"Throughout this site, you'll find information and resources compiled by the Indiana Division of Mental Health and Addiction designed to help Hoosiers stay connected and maintain their well-being. These resources have been validated by local and national experts to ensure that you have access to reliable information that you can trust."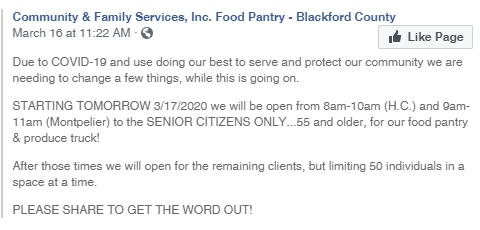 WIC offices are closed to the public. The Blackford County office can be reached at 765-348-0744 or BlackfordWIC@gmail.com. The fax is 765-348-0748.

Washable face masks for personal use only

The library director is making free cotton masks to give away to those who need them. Please send requests to director@hartfordcity.lib.in.us .